Justin Lepscier
Director, Tribal Administrative Services
Tribe: Menominee Indian Tribe of Wisconsin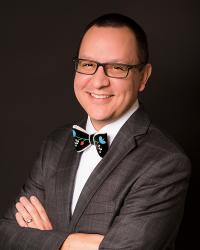 Justin Lepscier joined FSA in July 2021 as a Grants Financial Analyst. His primary role is to assist tribes with financial and grant management services.
Justin is an enrolled member of the Menominee Indian Tribe of Wisconsin. He was born and raised on and near the Menominee Indian Reservation. He received a Bachelor of Science degree in Business Administration with an emphasis in Leadership and Change from the McDonough School of Business at Georgetown University and an MBA from the Schneider School of Business at St. Norbert College. Before joining FSA, Justin worked as a Federal contractor at the National Institutes of Health, a Senior Grants and Contracts Specialist at the University of Wisconsin-Madison, a Data Reporting Specialist at Northeast Wisconsin Technical College, Mortgage Lender at Bay Bank, and Finance Manager for the Menominee Indian Tribe of Wisconsin. Justin has also served as a Member and Chairman of the Board of Directors for the Wolf River Development Company, Menominee Tribal Enterprises Board of Directors, Board Member for the Wisconsin Trust Account Foundation, and currently serves on the College of the Menominee Nation Board of Trustees.
Outside of work he enjoys spending time with his family outdoors hunting, fishing, and camping, and watching the Packers and the Hoyas. Justin lives in Shawano, Wisconsin with his wife Crystal, daughter Caroline, and son Jacob.